Join Us for our 1st Annual Special Strong Games!
June 8, 2024
Carrollton, Texas
Ages 10+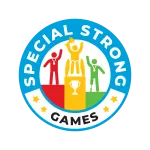 A Fun Day of Games & Competitions for Special Needs Individuals
At Special Strong, we're so proud to announce our exciting Special Strong games taking place in the summer of 2024! Special Strong Games will showcase the unique strengths, talents, and skills of individuals in a wide variety of adaptive athletic competitions. In each 2-hour block, 40 athletes will compete in 5+ athletic challenges and work towards winning meaningful awards. Participants will find success, build confidence, make new friends, and enjoy having their strengths recognized. Plus, they'll have tons of fun!
The Life-Changing Benefits of Participating
This daylong event will provide a rare opportunity for special needs individuals to build confidence, experience joy, demonstrate courage, and take their physical fitness to the next level. The competitions are designed with the same scientific CBSE adaptive fitness models we've used to successfully train over 1,500 children, adolescents and adults with special needs:
A. Core, Balance & Flexibility
B. Brain & Sensory System
C. Strength & Muscle Development
D. Endurance & Stamina Adaptation
During the event, participants will also enjoy delicious food, important awards, athletic shirts, and so much more!
Our Mission With the Special Strong Games
Since 2016, Special Strong has been the industry leader and recognized innovator in adaptive fitness training. Our goal with the 1st Annual Special Strong Games is to continue making a difference in the lives of individuals with mental, physical, and cognitive challenges. Through these all-inclusive competitions. participants will become more confident, strong, independent, and enjoy more abundant lives.
It would be an honor to have you join us!
Champion Presenting Sponsor
Dynamo Diamond Sponsor
Power Platinum Sponsor
Stamina Silver Sponsor
Blazing Bronze Sponsor